TikTok spark Ads Guide
Published on: October 19 2022 by pipiads
If you're interested in more information about TikTok Spark Ads, check out this guide and learn how you can increase your returns.
With 1 billion monthly active users, TikTok boasts a huge audience for brands that are looking to maximize reach. You'll probably need to revamp your current marketing plan when considering TikTok Spark Ads, the platform's new paid ad format. TikTok isn't the place for traditional content. You'll know why when you read on.
As a result, TikTok tends to be raw and authentic. When compared to Instagram, TikTok users aren't required to create polished content.
The key is to let their creative juices flow and be themselves. Brands who wish to advertise on TikTok should follow the same principle. After all, TikTok's advice for businesses goes like this: "Don't make ads. Make TikToks." TikTok Spark ADS has caught the attention of marketers for just such a reason.
content post by pipiads, #1 adspy tool of tiktok ads.
What are TikTok Spark ADS?
Spark Ads is a native ad format that allows advertisers to tap into authenticity by boosting organic content. This ad format allows the same user interactions as organic videos: users can comment, like, and share; they can visit your brand's profile by swiping left, or clicking the handle name or profile picture; they can even follow your brand's account by clicking the + icon on the profile picture.
TikTok non spark ads.
TikTok Non-Spark ads are a standard format delivered to the 'For You' page. Ad video placing is seamless, creating a more native content approach but with a Call-To-Action for TikTok users.
TikTok Spark Ads vs. Non-Spark Ads
Spark Ads delivers enhanced ad performance compared to non-Spark Ads and efficient buying options while weaving organic and paid strategies together.
Spark Ads is only accepted on TikTok
Advertising on TikTok may seem challenging. In reality, TikTok has created a unique platform that gives marketers the ability to leverage user content to create ads. Known as Spark Ads, TikTok describes them as "a powerfully authentic way to reach your audience and promote your business".
On TikTok Ads Manager, Spark Ads support Auction and Reach & Frequency Buying Types.
Reach, Video Views, Community Interaction, Traffic, App Installs, Conversions, Lead Generation, and Shop Purchases (Alpha).
Reach, Traffic, and Video Views.
What are the benefits of Spark ADS on TikTok?
The Spark Ads format has the following benefits:
Authentic and unique brand experiences.
Spark Ads provides an opportunity to build and cement your brand image and brand trust by allowing you to add organic TikTok pages and posts to your ads.
​Increase in ad performance.
​We are seeing overall positive campaign results of using Spark Ads on Video Views, Engagement Rate, CVR, and CPM (Completion Rate +30%, Engagement Rate +142%, CVR +43%, CPM -4%) compared to Non-Spark Ads. With Spark Ads, you can also reduce unintended clicks to achieve higher CVR.
Innovative features.
​Spark Ads support Duet, Stitch, and Sticker features, and allow viewers to click on the post's music.
​Long-lasting marketing impact and improved ROI.
​All of the Spark Ads post engagement will be attributed to the original organic post and can have a positive impact on this organic post's engagement in the future.
Spark Ads can help to improve customer retention and loyalty and drive new lead generation and re-purchase.
TikTok sparks ad best practices
Very early on, many marketers discussed TikTok Spark ADS on Reddit.
This advertising strategy has been tested by many marketers and received very positive feedback since its release.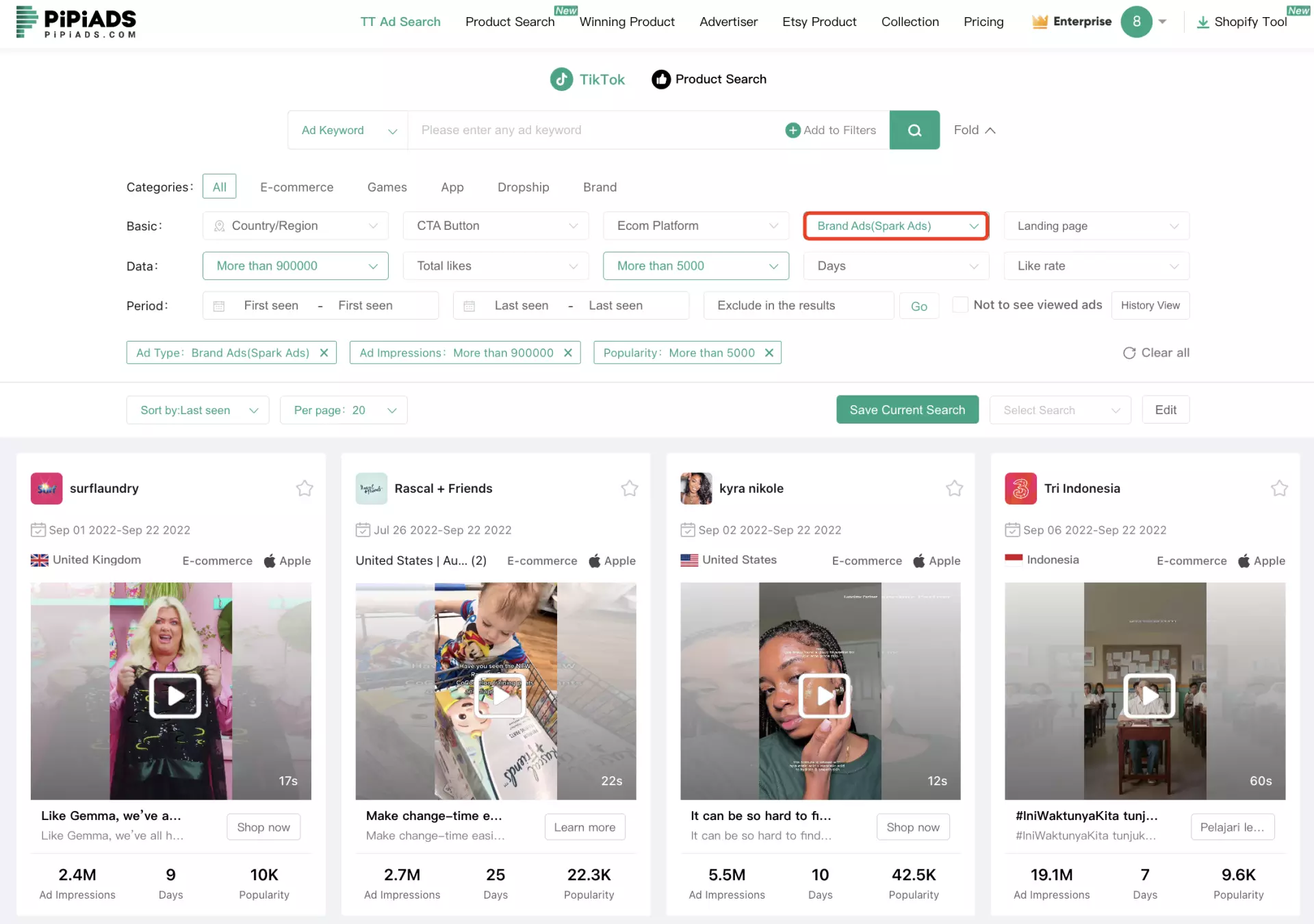 Here are some TikTok spark ads examples:
Pizza Express
https://www.tiktok.com/business/en-GB/inspiration/pizzaexpress-1076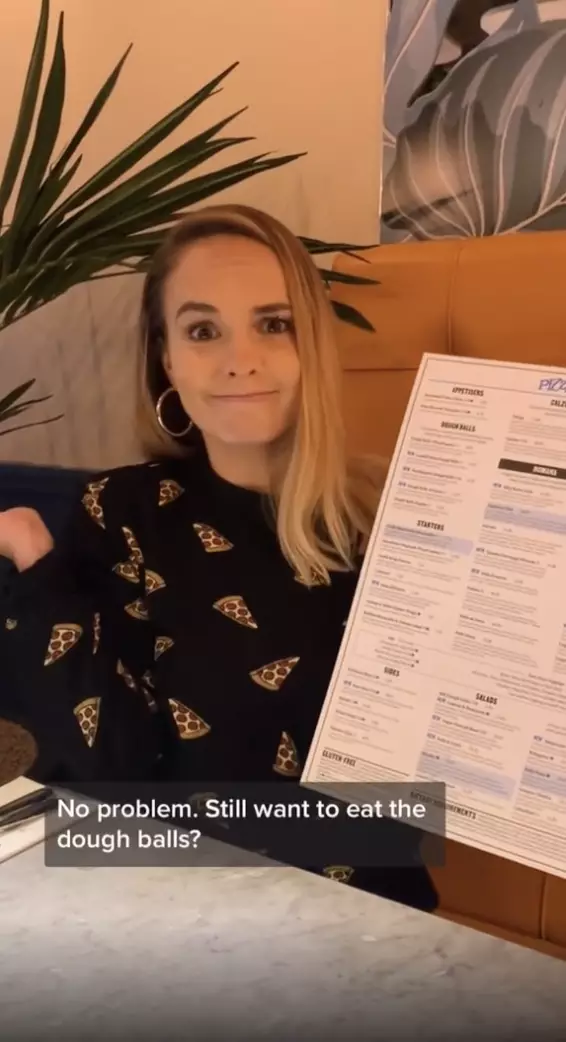 Pizza Express partnered with Creators @thelittlelondonvegan, @veganluke, and @veganbeautygirl, who were a perfect match for this campaign. Together they produced videos showcasing the range of mouth-watering options on the Pizza Express vegan menu, keeping them humorous, engaging, fun, and totally native to the platform.
The Pizza Express campaign used Spark Ads perfectly – utilizing user-generated content to reach their target audience in a totally authentic way. As a result of their seriously native feel, the ads saw over 2.6 million 6-second video views and Pizza Express increased its TikTok followers by over 9,000. To top it all off, the brand ran a brand lift study, which revealed an 11.1% lift in ad recall and a 4% lift in brand preference.
surflaundry
https://www.pipiads.com/ad-search/bde707a49fff4c18d6c3/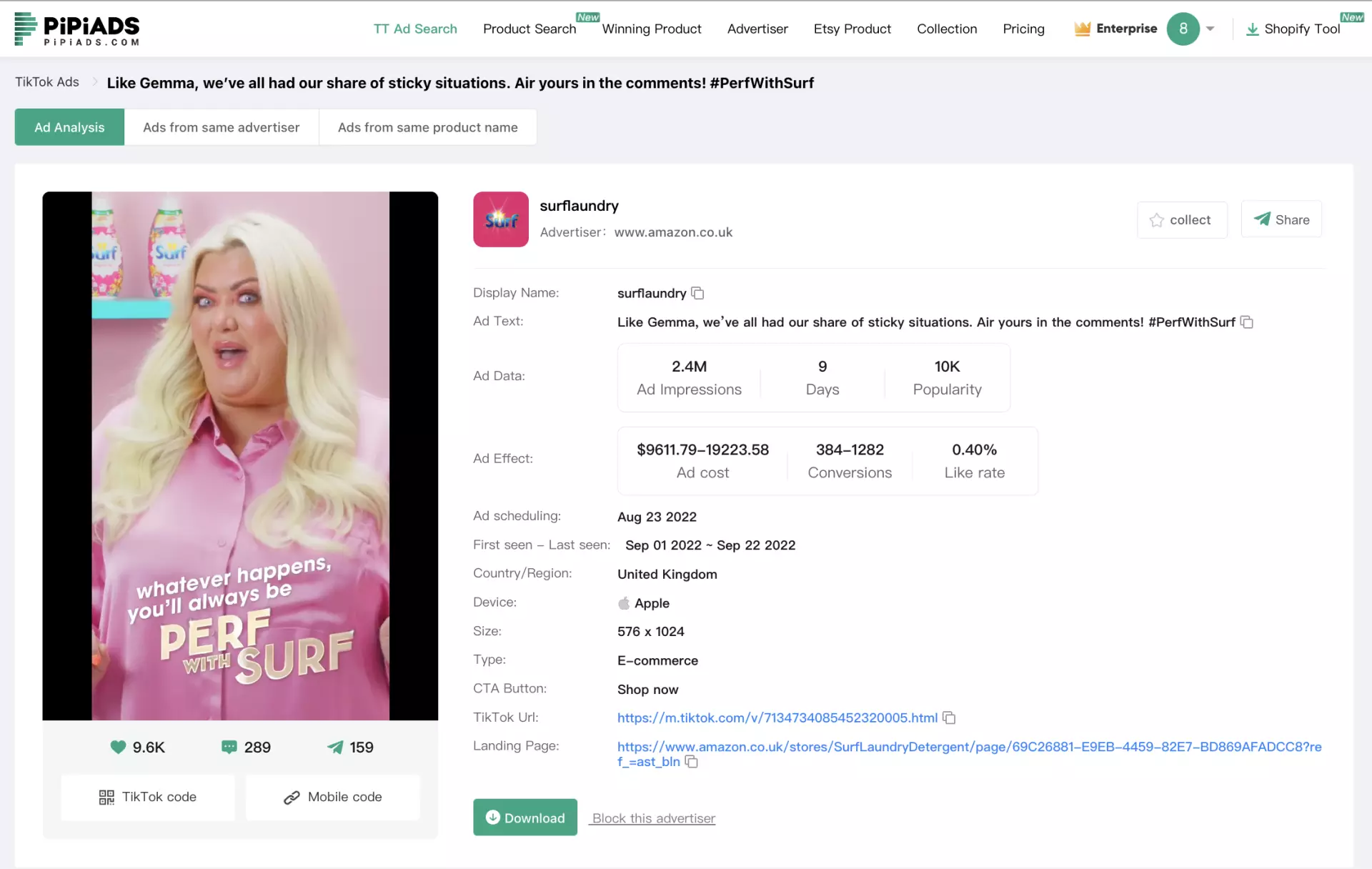 Surflaundry promotes its videos through spark ads to raise awareness.
How To Run Spark Ads On TikTok?
There are two types of Identity available for creating Spark Ads:
Identity type 1: Use Your Own Linked TikTok Business Account.
Identity type 2: Use Authorized Accounts (authorize via Business Center) or Posts (authorize via video codes).
If you are unsure about which method to select, consider the following:
​If you have linked your TikTok Business account to TikTok Ads Manager, (https://ads.tiktok.com/)and want to use your TikTok posts or push video from Ads Manager and publish it under your linked business account, choose Identity Type 1.
​If you want to use accounts authorized via Business Center or use posts authorized via video codes, choose Identity type 2.
Both methods are explained in detail below.
After linking the TikTok Business Account with TikTok For Business, advertisers can
1) directly choose any posts under their linked Business Account and use any of them as Spark Ads creative.
2) directly upload/create new videos on Ads Manager, and publish them under a linked business account on TikTok App without any in-app operations.
Step 1: Choose "Use TikTok account to deliver Spark Ads"
Select an Advertising Objective.
Complete Campaign and Ad Group settings.
Toggle Use TikTok account to deliver Spark Ads.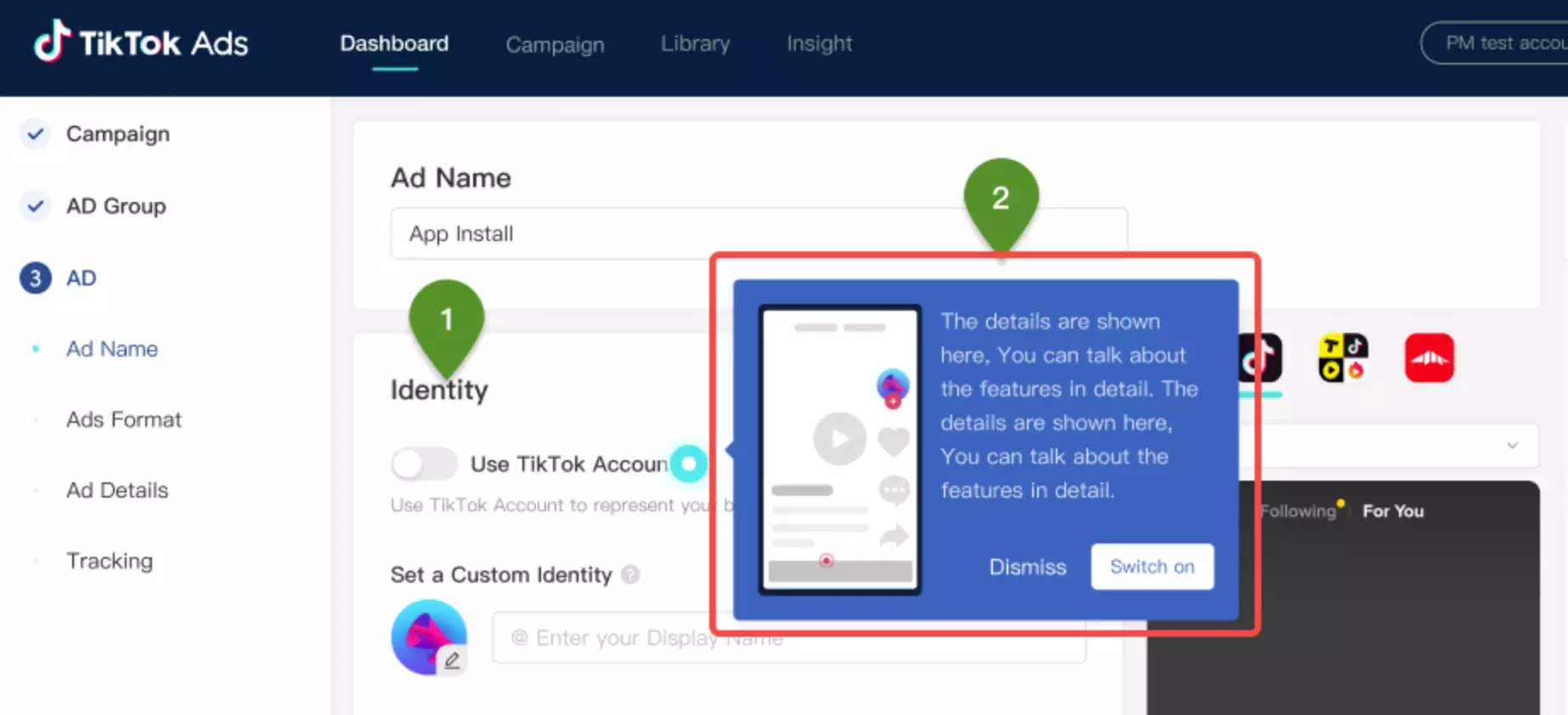 Step 2: Choose "Use account owned by you"
Using an account owned by you enables you to directly use any available posts under your linked Business Account or push video from Ads Manager to your linked Business Account without any in-app operations.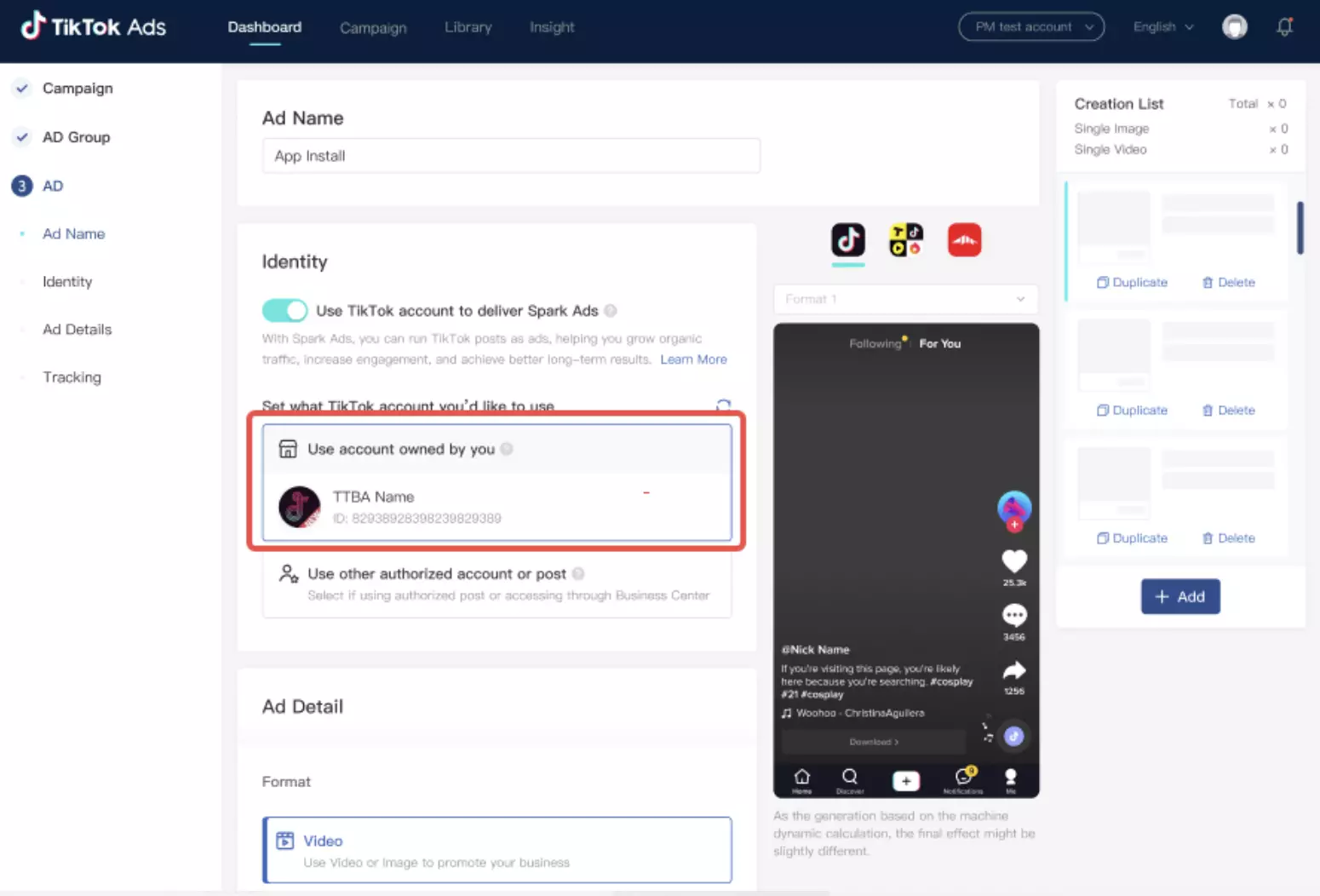 For the next steps, you can either choose an existing post from your linked Business Account or create/upload new videos from Ads Manager and publish it under your linked Business Account, as the Spark Ads creatives.
Step 3.1: [Pull] Choose the existing post under your linked account using "+TikTok Post"
1).​ Under Ad Details, choose TikTok Post and select a post you want to use in your Spark Ad.
2).​ After you selected the video, click Confirm.
3).​ Complete the rest of the ad settings, then click Submit to publish your Spark Ad.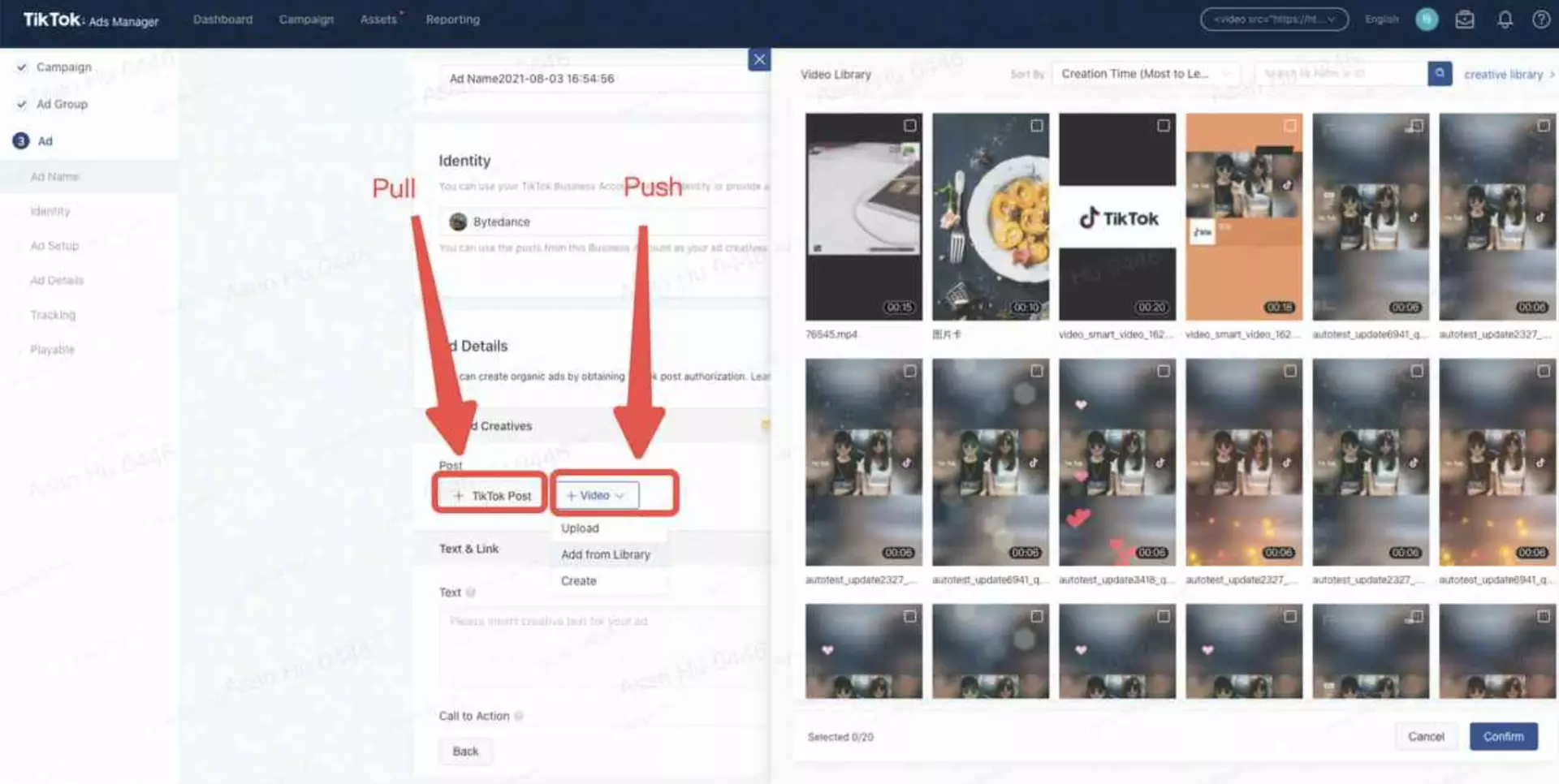 Step 3.2 [Push] Create/upload/add a Spark Ads video and publish it under your linked Business Account using +Video.
1). ​Under Ad Details, click +Video and choose the form:
Upload to add a video from your computer.
Add from Library to add video materials previously used in Non-Spark Ads or made with our Creative Tools.
Create to make a video using our Creative Tools.
2). After uploading/creating/selecting your video, you will see an "Only show as ad" checkbox. You can turn it on if needed; it will make your published video only appear as an ad, and won't be recommended, searchable, or displayed on your profile page;
3). Finish the rest of the ad settings, and your Spark Ads are good to go.
Note: Once the ad passes ad review, the pushed video will be published under your linked business account in private mode, you can manually make it public in the TikTok app.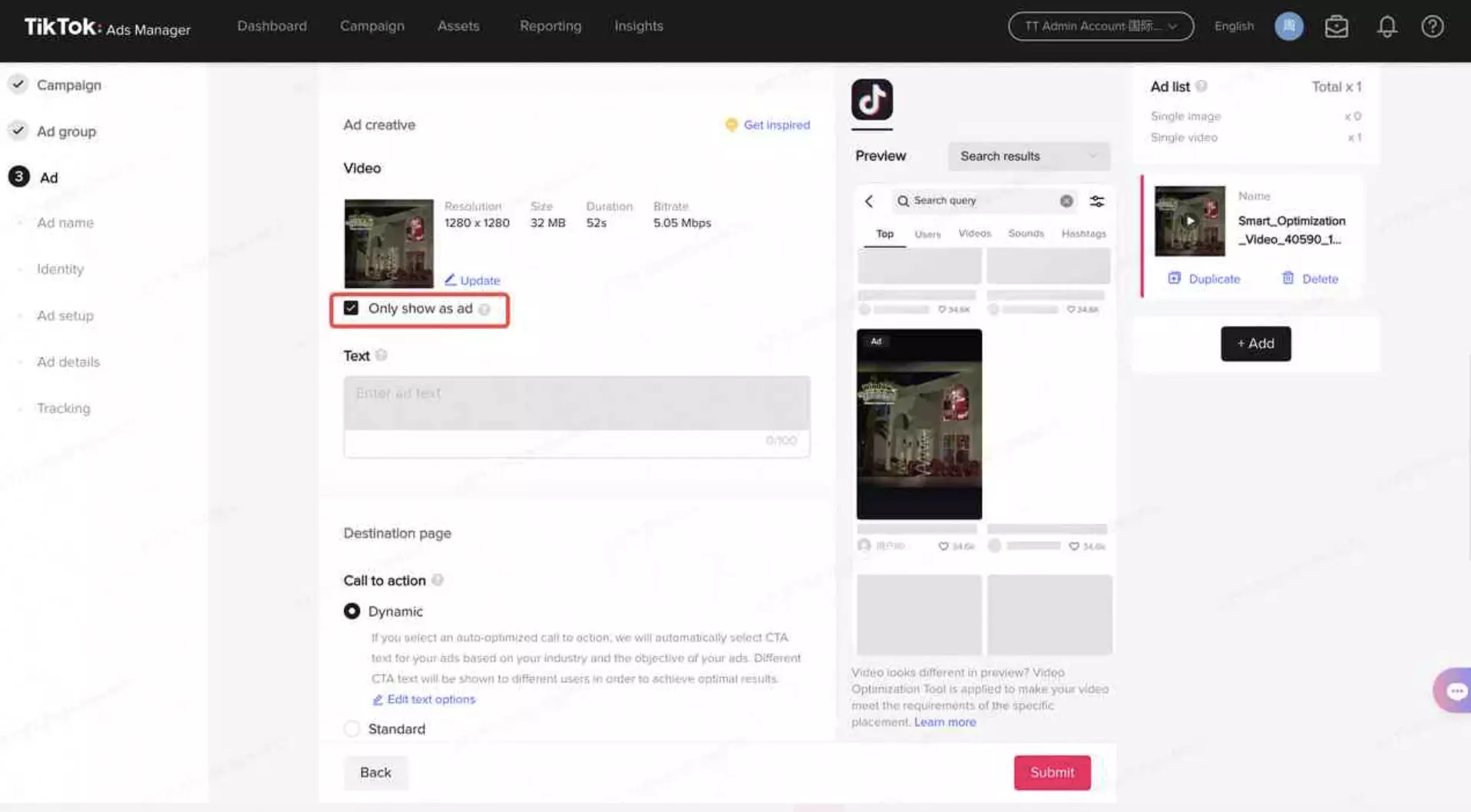 If you already linked an authorized TikTok Account to your Business Center, you can select this account under Use other authorized account or post to create Spark Ads. Otherwise, you can go to your Business Center and request and share access to TikTok accounts.
Step 1: Ensure that Authorized Posts are Allowed.
Note: Due to the difference in TikTok versions, to find Ad settings in the app, some users may need to tap:
​Me > Settings and privacy > Privacy.
or Me > Creator tools.
Before you can use authorized posts in your Spark Ads, the posts' creators must first turn on the ad authorization toggle in their TikTok app. To authorize a post, from the TikTok app (version 22.6 and above):
​Tap on Me to go to your profile page, then tap the 3 dots on the top-right corner.
​From the Settings and privacy page, tap Creator tools.
Turn on the Ad settings toggle.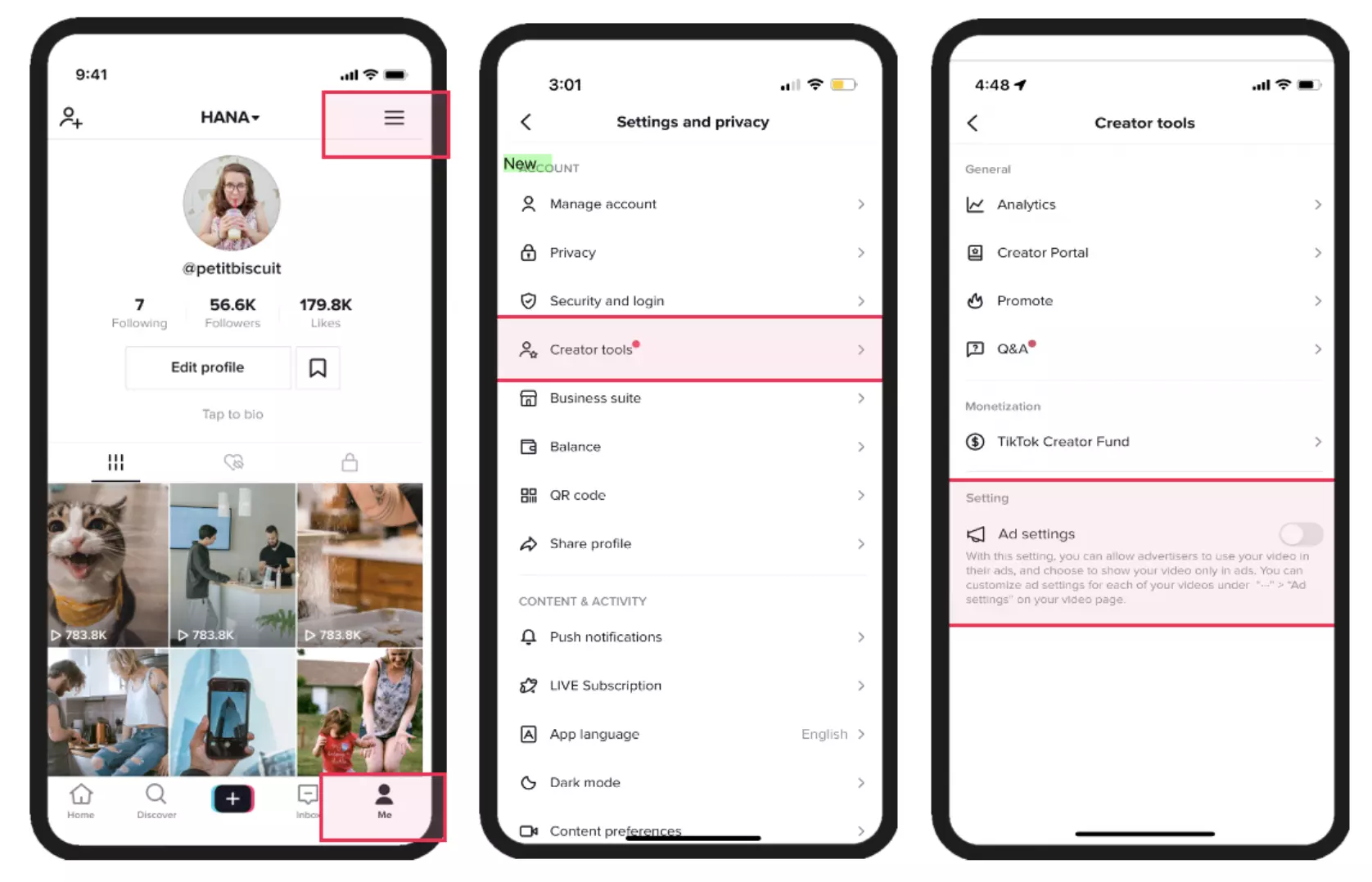 Step 2: Authorize video for promotional use.
To select and authorize a video for promotional use, from the TikTok app:
Select a TikTok post to authorize.
Tap the three dots, then tap Ad settings.
Agree to Advertise Content Terms of Service and enable the Ad authorization toggle.
Generate a TikTok ad authorization code (Also called Spark Ads code)
After you authorized a video for promotional use, you will need to generate a video code to share with the advertiser and select the duration of that authorization.
From the post's Ad settings module:
​Tap Generate Code, then select the authorization duration. Choose from: 7, 30, 60, or 365 days.
Next, tap Copy Code to share the code with the advertiser.

TikTok Ads Only Mode
If you want the selected authorized post to only appear in TikTok ads, and not appear in the For You Feed, Follow Feed, Account Profile Page, Search Result Page, and Playlist, you can enable the Only show in ads to toggle under Ad settings.
Note: The Only show in ads feature requires TikTok version 21.3 and above.
Step 3: Enter the video code on TikTok Ads Manager.
Once you have received the video code from a creator, you will need to enter that code on TikTok Ads Manager.
From TikTok Ads Manager:
Go to Assets > Creative > Spark ads posts, and click Apply for Authorization.
​Paste the video code in the search bar and click Search.
Review the post and click Confirm.

For the videos made by two creators, like Duets and Stitched posts, you will need to enter video authorization codes from both creators featured in the videos. From the Apply for authorization module:
Enter the video code from the 2nd creator/account into the search bar and click Search.
Once the system confirms that this is a dual creator post, you will need to enter the video code from the 1st creator's original post.
Once the system retrieves the original post, review the posts and click Confirm.
Note: Stitch posts made by creators based in the US are not supported at this time.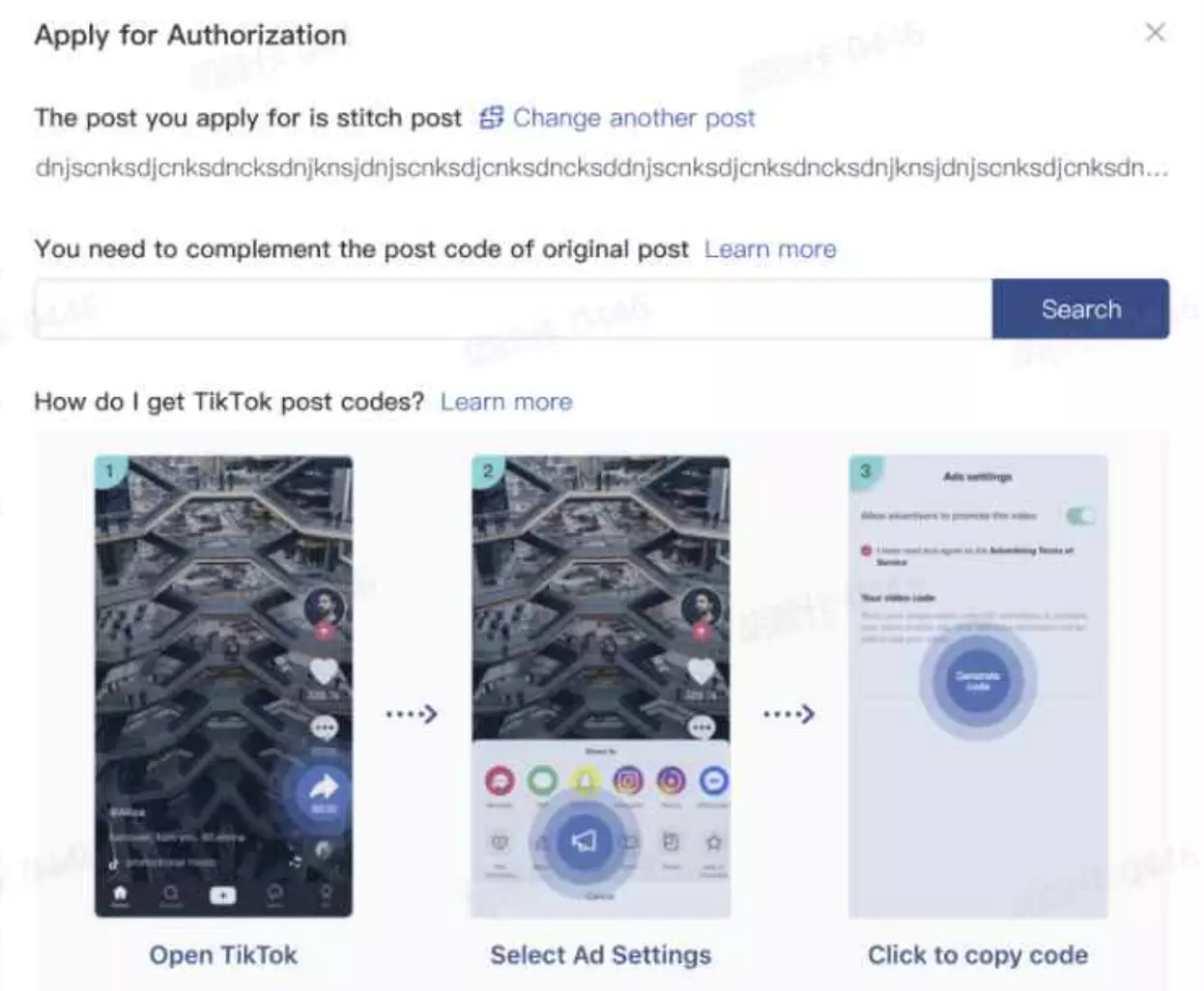 Step 4: Create a Spark Ad.
After an authorized post is successfully added to the TikTok Ads Manager, you can create your Spark Ads.
From TikTok Ads Manager:
At the Campaign Level, select an Advertising Objective.
Next, complete Campaign and Ad Group settings.
At the Ad Level, under Identity, enable Use TikTok account to deliver Spark Ads.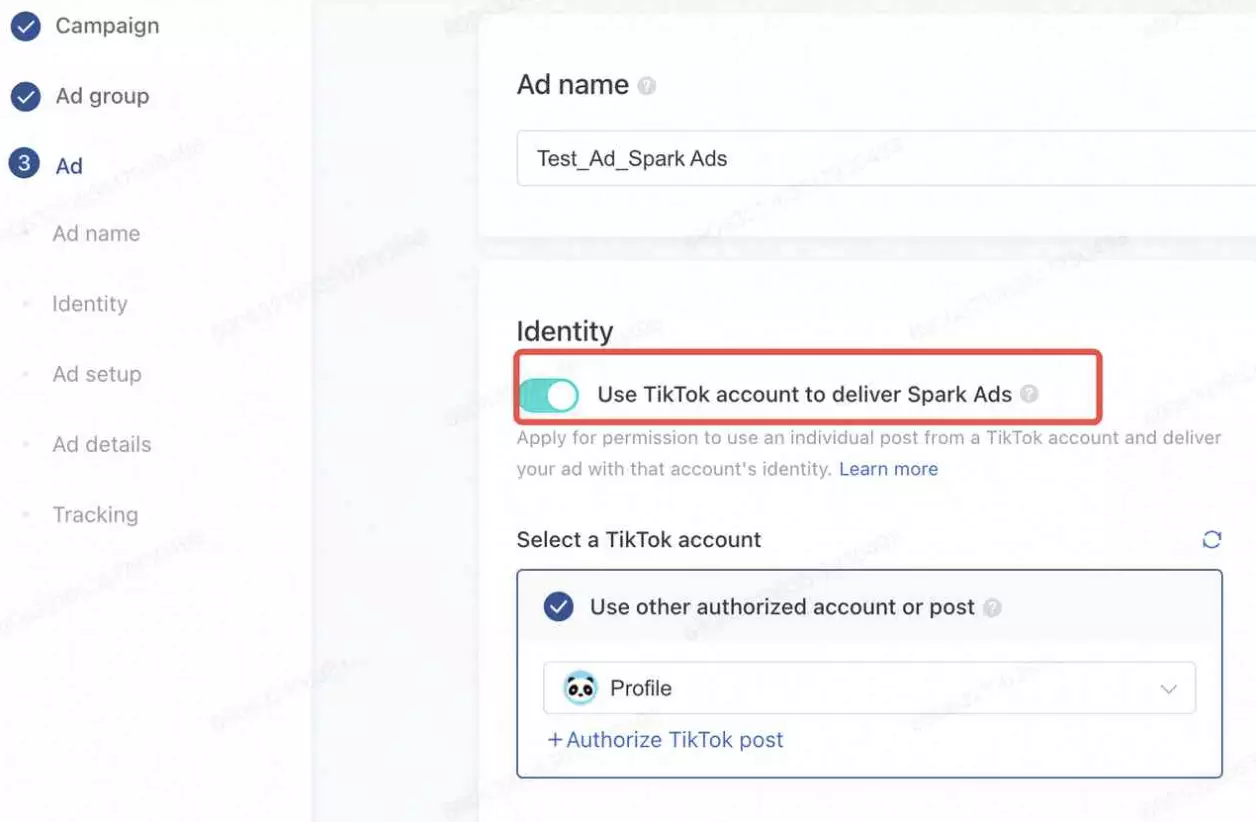 ​Select the TikTok account that authorized the post you will use as your Spark Ad's creative.
Under Ad details, click +TikTok post to select your creative.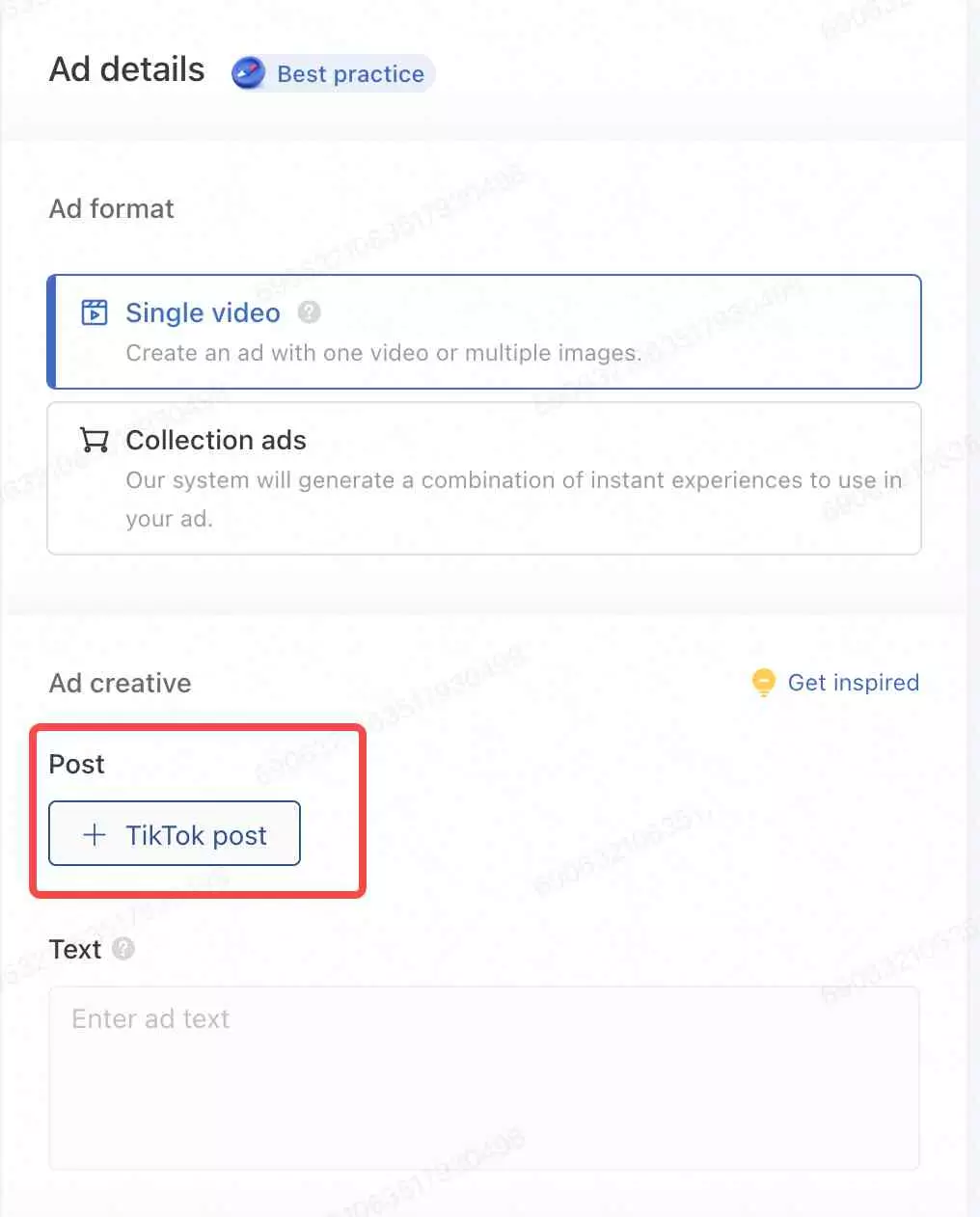 ​Complete the rest of the Ad Settings and click Submit.
To apply for a new post-authorization:
Click +Authorize TikTok Post.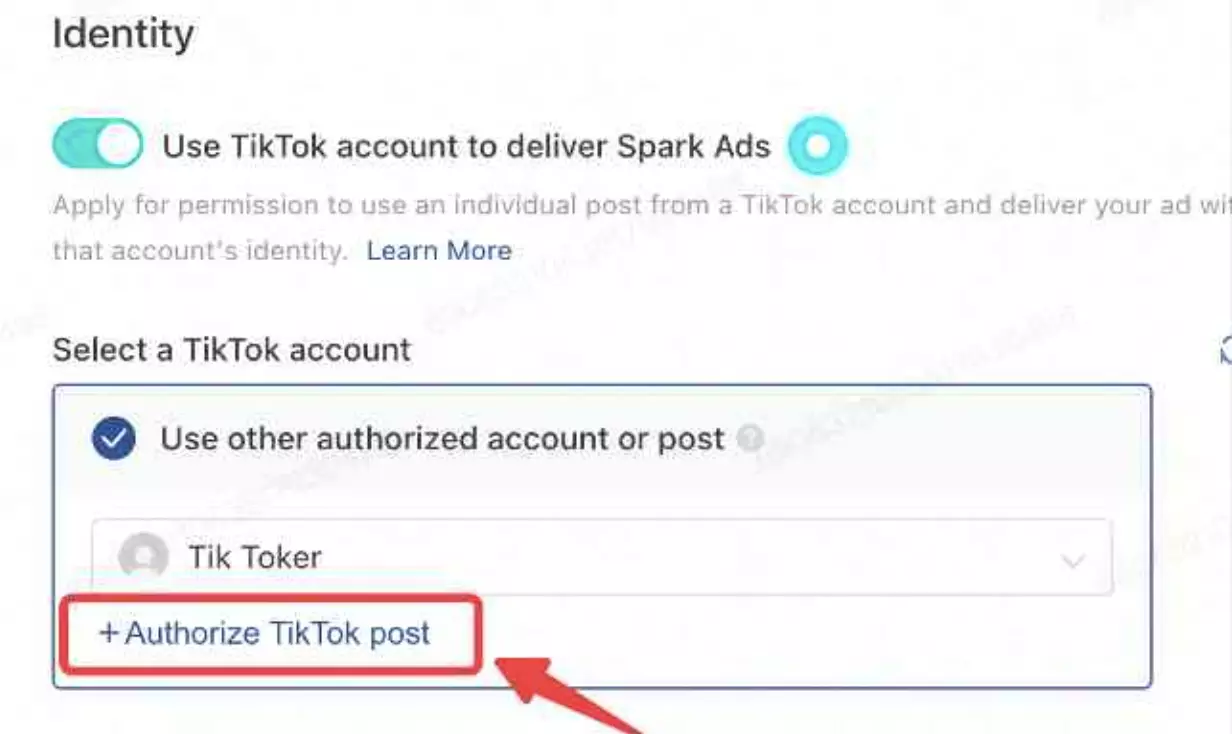 Enter the video code of the new authorized post.
Select the TikTok account that authorized the post.
Notes:
1).​ You cannot edit a post's caption after it's been authorized as an ad. Please make sure the ad caption is the final version when creating Spark Ads.
2).​ A private video will become public once it is used in a campaign, and the video privacy status cannot be changed during promotion (however, you can turn on the TikTok Ads Only Mode).
3).​ Video code can only be deleted when all the ads this video is used in are deleted on TikTok Ads Manager.
How much do TikTok spark ads cost?
By detecting ads on TikTok, PiPiADS, as a TikTok AD Spy tool, produced these results.
| | | | | |
| --- | --- | --- | --- | --- |
| Country | Minimum CPM ($) | Maximum CPM ($) | Minimum CPA ($) | Maximum CPA ($) |
| Canada | 5 | 8 | 12 | 30 |
| Mexico | 3.31 | 3.38 | 12 | 30 |
| United State | 5 | 13 | 10 | 30 |
| Belgium | 0.76 | 3.65 | 8.95 | 20 |
| Switzerland | 2 | 4 | 10 | 20 |
| Germany | 11.81 | 12.46 | 10 | 30 |
| Denmark | 2 | 4 | 10 | 20 |
| Czech Republic | 1.55 | 1.67 | 10 | 30 |
| Spain | 3 | 6 | 10 | 20 |
| Finland | 2 | 4 | 10 | 20 |
| France | 3 | 6 | 18 | 25 |
| United Kingdom | 4 | 8 | 15 | 25 |
| Ireland | 2 | 4 | 15 | 20 |
| Italy | 4 | 5 | 15 | 30 |
| Netherlands | 2 | 4 | 15 | 20 |
| Norway | 2 | 4 | 10 | 20 |
| Poland | 1.7 | 2 | 10 | 20 |
| Romania | 1.6 | 2 | 10 | 30 |
| Sweden | 2 | 4 | 12 | 20 |
| Australia | 3 | 6 | 14 | 25 |
| New Zealand | 2 | 4 | 8 | 25 |
| Japan | 4 | 8 | 7 | 20 |
| Thailand | 1 | 3 | 4 | 10 |
| Taiwan | 4 | 8 | 7 | 20 |
| Indonesia | 0.74 | 1.14 | 0.3 | 2 |
| Philippines | 0.15 | 0.73 | 2.18 | 10 |